So the Academy Awards were last night, otherwise known as the Oscars. It is one of the biggest fashion nights of the year. And I'm happy to say that this year all our leading ladies did not disappoint. There were very few dresses I didn't like. Usually I find a lot more. Let's get started. I'm going to break it up into categories, and then wrap up with my best and worst dress at the end.
First, let's start with the dresses I didn't like.
Sorry Anne Hathaway. If you had that dress minus those hideous black bows on the front and back, I probably would've left you off this list (even though the rest of your dress is a giant doily). But as soon as I saw this dress I didn't like it. I also would've liked to see her do something a little different with the makeup she wore. I feel like she just does this same look over and over.
I rarely like what Beyonce chooses to wear. Her choice for the Oscars is no exception. If she had the same dress minus that beaded thing around her shoulder I would've liked this much better. Her hair and makeup however I think looks rather nice.
I don't really know who Eva Green is, but I know I do not like her choice in what she wore to the Academy Awards. It looks like she's not too happy about it either in this picture. She looks a bit like a corpse bride with the dark hair and pale skin, and gauzy dress.
Now for my so-so dresses. I definitely don't hate them, but I don't love them either.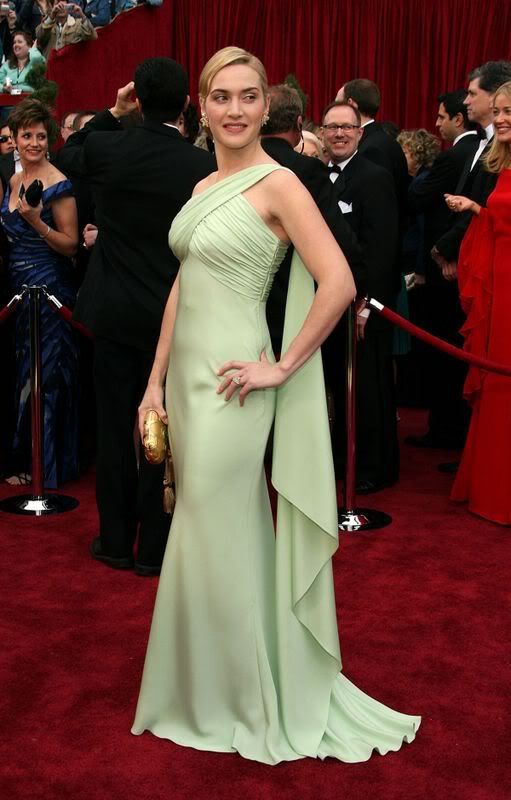 I just think Kate has worn other dresses that really put this one to shame. But she still looks nice. Maybe I'm just holding her to a too high standard.
I kept going back and forth on this one. Sometimes I thought it was a really great dress, but other times I thought it was a little prom-ish. Eh, I'm still not sure about it.
I think this dress is cute, but I don't particularly care for the sleeve-like things. But she looks all cute and has that nice pregnancy glow. So I won't go too hard on her.
I love the top of this dress. I think it is very cute and fun, yet still has sophistication about it. The bottom, however, I have some issues with, which is why it is landing on my undecided list. I think if it didn't have those feathers I would like it much more.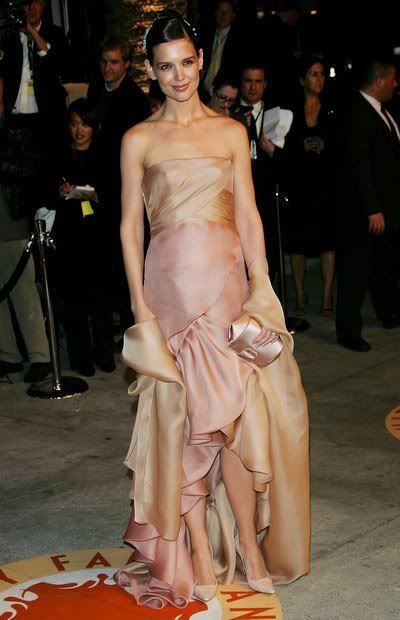 I think this dress is pretty and all, but something I can't put my finger on exactly is keeping me from really liking it a lot.
Nicole Kidman looked really beautiful, but I'm just not sure how I feel about the giant bow on her dress. If she can't pull it off, no one can. Overall though, I think she looked great (and put any pregnancy rumors to rest, look how skinny she is!)
Now for the dresses I really liked.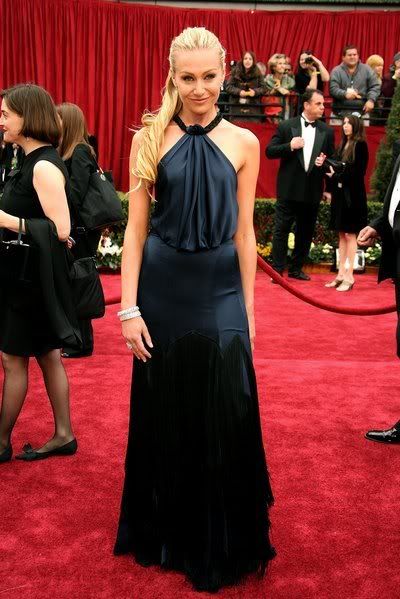 I thought Portia De Rossi looked really great last night. Ellen must've been proud.
Reese didn't fail to impress me. I thought she looked absolutely stunning. It's a really lovely color on her. And she's also showing off her new body still.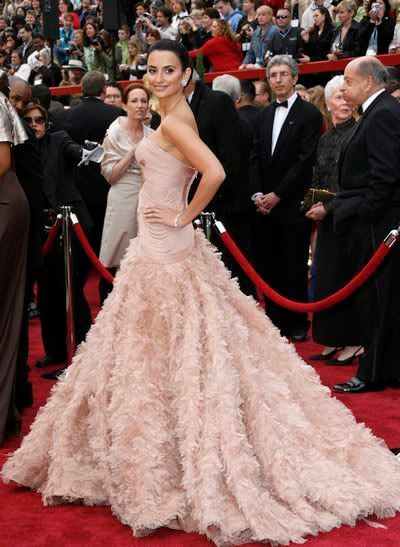 Penelope Cruz looked amazing. There's not much to add. This dress looked even better on tv than it does in this photo.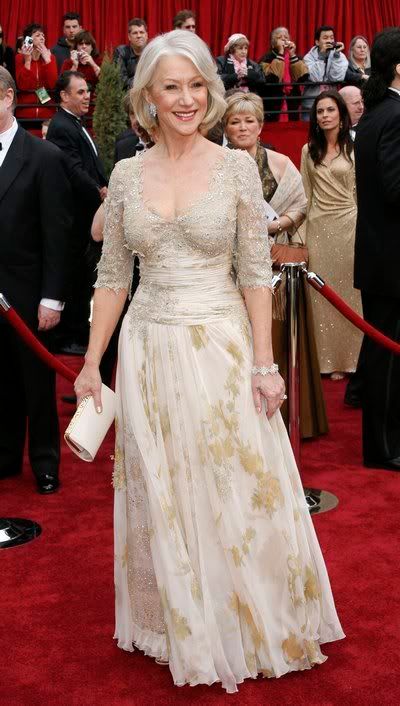 This photograph in NO WAY does justice to what this dress looked like on the telecast. She looked absolutely beautiful, especially when you consider she's in her 60s. I hope that I can look half as good at that age.
I think Gwyneth usually looks pretty good. I think it's an interesting choice she chose to wear her hair down. I don't know if it is all her own hair, as opposed to extensions, but her hair looks so healthy. I'm a little jealous. But this dress is vintage (or so I heard) and I think it fits her wonderfully.
Cate's been a big fan of the metallic dresses this awards season. Some have been hits, and others are misses. I personally find this one to be a hit. I think she looks great.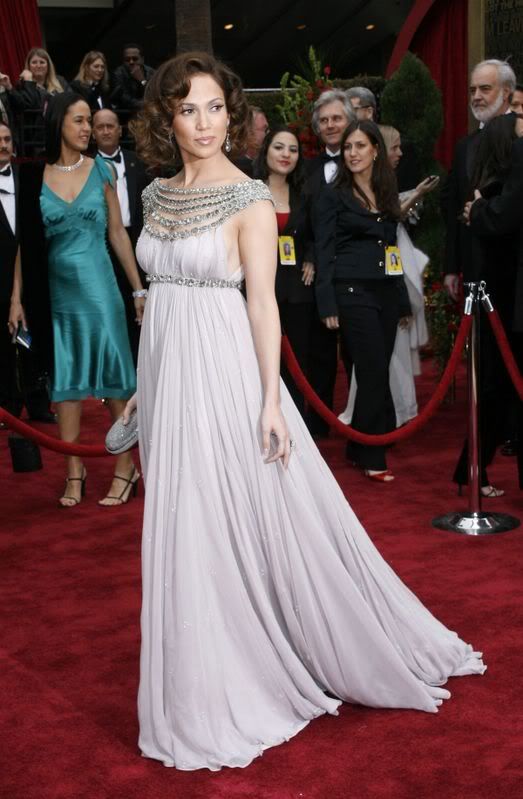 I
love
this dress. I think this is one of my favorite dresses I've ever seen J Lo in. Beautiful. I think it would be maybe a little better for a pregnant woman given the flowy nature of the dress, but she still looks lovely.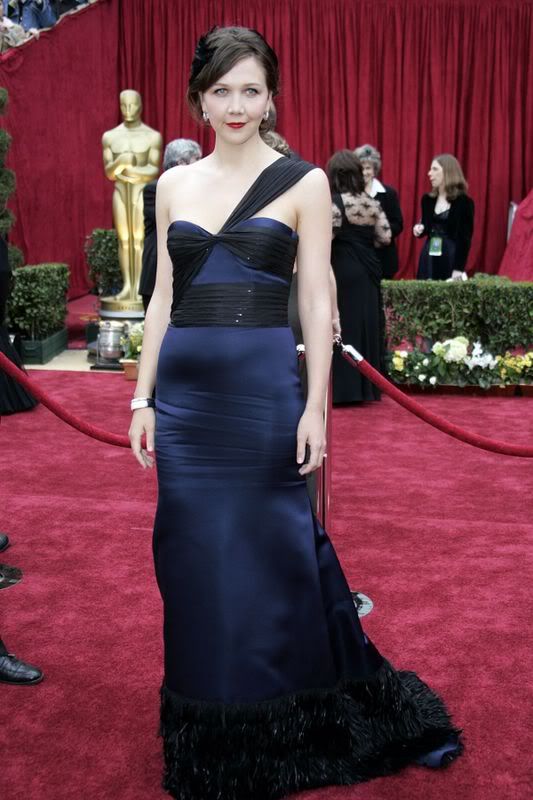 I thought Maggie Gyllenhaal looked great. Especially when you take into consideration she just had a baby a few short months ago. Her dress also has feathers, but the difference is, is that they don't stand out so much. It is subtle detail instead of a distracting one (like in Kirsten's case).
So now, for the best and worst.
I was going to post this dress as my worst dress (even though it pains me cause I love Zhang Ziyi and think she's adorable):
I don't think I need to explain what is wrong with this.
But I am ultimately going with the dress Elisabeth Shue wore as my least favorite:
Now this dress isn't that ugly really, but I just feel this isn't really an Oscars type dress. This is something to wear to a PTA meeting. Almost as if Ms. Shue forgot she was supposed to go, and threw on the first dress she saw. And I find her accessories all wrong. So Zhang missed out on being the worst dressed by just a hair, cause at least she wore a gown, even if it was a bad one.
My favorite dress was a Chanel dress worn by new comer (at least here in the States) Rinko Kikuchi, a Best Supporting Actress nominee.
Rinko has made a few fashion missteps at the past award shows, but I think she put together a perfect look for the Oscars. Hair, makeup, accessories, they all came together beautifully.