After countless hours pouring over the collections on style.com, I realized there was a lot of crap coming up for Fall 2007. I also realized that there was a surprising amount of stuff that I
loved
. I admit that at first I was a little thrown off by the completely neutral color palate - all blacks and grays. Where were the usual fall shades of brown and red?! But the more I saw, the more I grew to appreciate the simplicity of it all. Some of my absolute favorite trends popping out this season were layering, opaque tights, straight flowing hair, and boxy silhouettes on top with skinny legs on the bottom. I was also drawn in by the ladylike dresses. Of course the only thing I love more than a good dress is a good coat, and there were plenty of those to be seen as well! Dresses with tights and gloves, coats as dresses, dresses layered under sweaters and more dresses...And I have to say, I really loved all the black. I've always been one for color - I love standing out in a crowd. But this season, I will make a statement with understatement, and I'm completely happy with that. Here are some of my favorites from New York fashion week. Sorry I left out the ones that I hated, but I figured why waste the space when there are so many fantastic collections to focus on...
First off we have DKNY. I loved this collection because it really reminded me of walking along the Rue de Rivoli in Paris and watching all the fashionable girls go by. The style was completely French and completely chic. Who cares about color?! Take me back to Paris!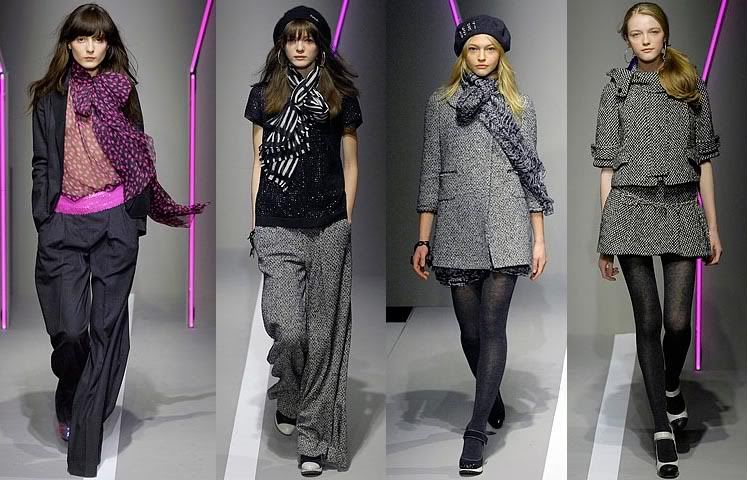 To see what actual, real-life French girls were showing, I looked no further than Catherine Malandrino's collection this season. She very much embodied my favorite boxy-on-top look, and this collection convinced me that I needed to run out and buy up a stock of black tights to wear with every dress and coat that I own.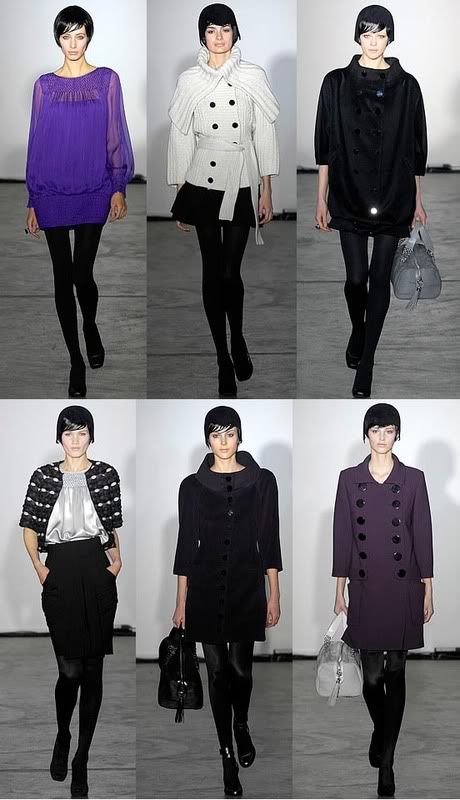 My first real surprise favorite was Francisco Costa for Calvin Klein. I haven't been a CK fan since the 1990s, but this collection really brought me back to the fold. Costa's designs displayed a simple beauty, and if there was ever a season for minimalism to make a comeback, this would be it.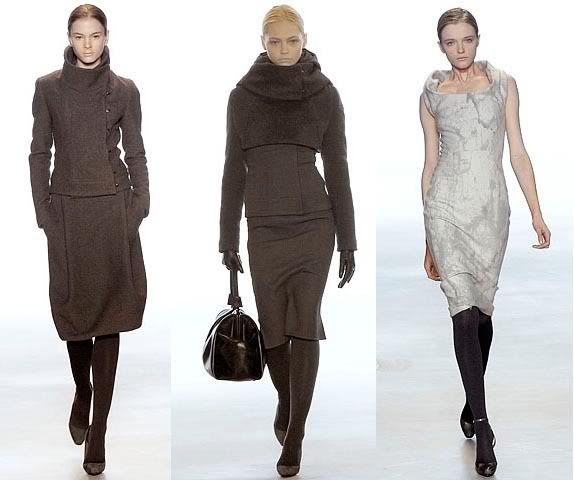 To be honest, I've never been a huge Behnaz Sarafpour fan. Obviously I have read the raving reviews of her work ever since she stepped out of design school, but I was never convinced - until now. I know this season was more of the same stuff she has always been doing, but for some reason, this collection just spoke to me. It's probably part of the "maturing" process. I really appreciated the femininity of the pieces as equally as the metallic, harder edges. I even liked the turtle necks, and I never like turtle necks.
Switching over to another designer I am also just learning to appreciate, we have Oscar de la Renta. I've always thought of Mr. de la Renta's pieces as things only a mother could love, as in they were for middle-aged to older women. But this season was different. Either Oscar is getting younger, or I'm getting older. Personally, I'm rooting for scenario #1. (Please note the
fabulous
white dress in the second row. I would wear this one long after Labor Day.)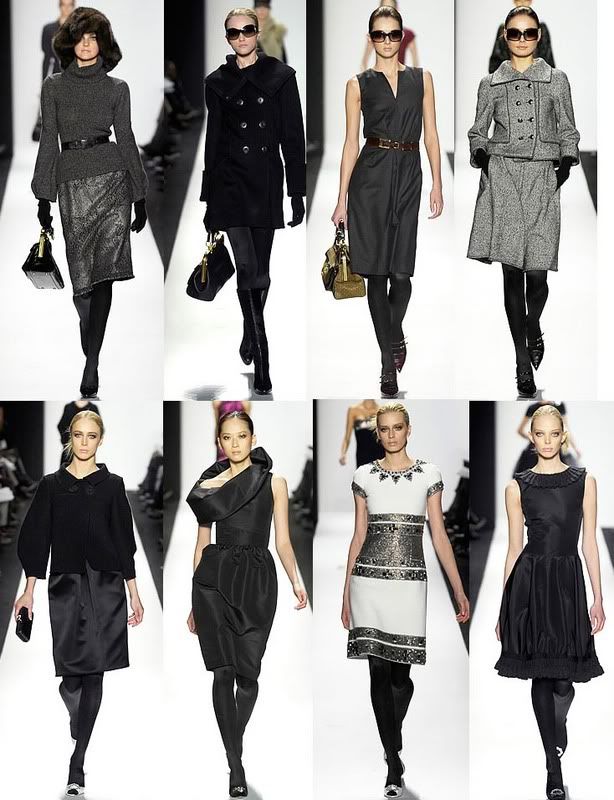 Continuing on, I found a lot to admire in Chaiken's line this season. The first dress is one of my favorites from the collection. The cut is so magnificent that you hardly notice the dress is only gray.
Although Chaiken is usually known for their perfectly cut trousers, I think Proenza Schouler took them in that category this season. This was basically the only collection that actually made me excited to wear pants in the fall. Of course I loved their dresses too...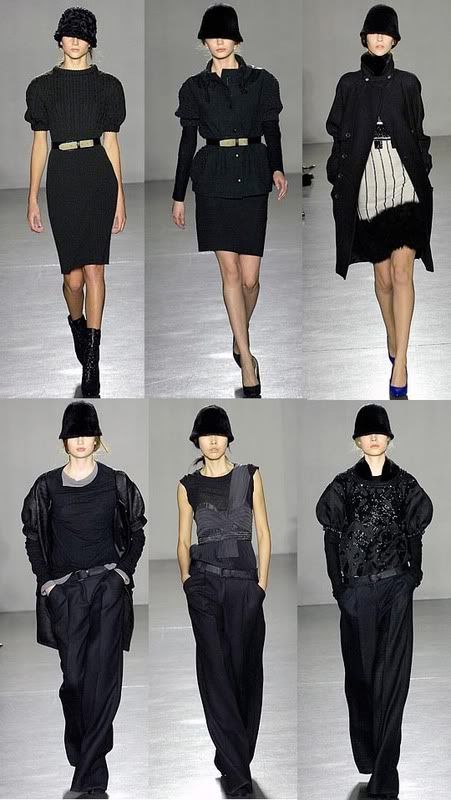 When I first heard of Monique Lhuillier, she was known as the next big wedding gown designer to break out in a market cornered by Vera Wang. This season she showed her range as an accomplished ready-to-wear designer, so now even the single girls can enjoy her wonderful clothes. Of course she also threw in her signature evening looks, which are sure to be snatched up by actresses with Oscars in their eyes. Notice the last dress is made from the most subtle leopard print you will ever see.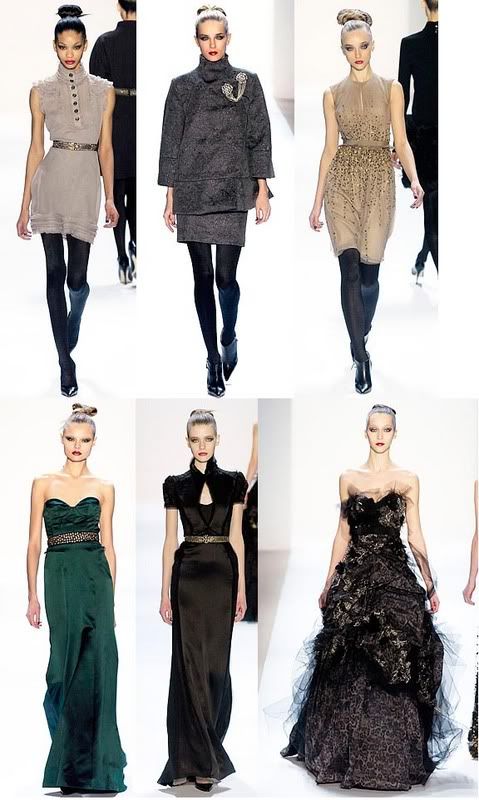 But even as good as Monique Lhuillier was, in my mind she still couldn't beat out Vera Wang. This collection was my absolute favorite of the season, hands down. Wang's girls looked like the most beautifully dressed street urchins you'll ever find. Everything about this collection felt right. The hemlines, the boots, the jewelled accents, the colors...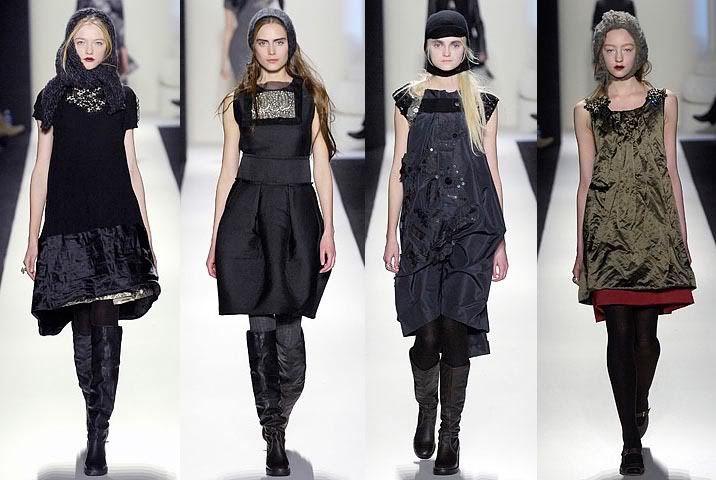 And my convictions were cemented when I saw this dress.
Overall, I was really pleased with what I saw from New York fashion week. Then I noticed that London fashion week just started a couple days ago...There's no telling what those crazy Brits have in store for us, but I'm guessing there will be plenty of black tights to go around.