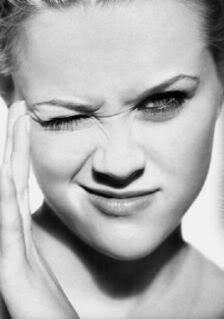 I was going to write a post on the SAG awards. But by now it just seems too late. But I did have a favorite dress. It was worn by an actress who wore one of our
favorite dresses
to the Golden Globes. So, since I wanted to post a picture of that dress, I decided to do a post on the fashion choices of Reese. So let's get started.
First off, one of the things I like about Reese, is that when she's dressed casual (i.e. just out about town) during the day, it is something that us normal girls can emulate. Her outfits don't come across totally out there, or like they would cost a lot of money to copy.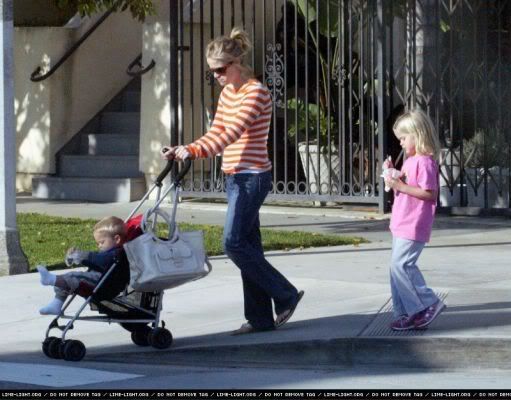 This is a perfect example. I have a very similar sweater from Gap. It cost maybe like $30-$40 (it was a gift, so I can't be sure). And then just jeans and flip flops. Totally doable. It's nice to see that we don't
always
have to be wearing dresses with heels to emulate our favorite celebs.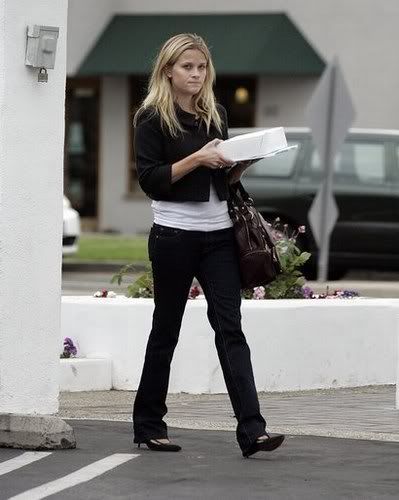 This look is a little more "dressy". Something you could wear to work on a Friday (or any day of the week depending on where your job is). This coat is cute. It kind of reminds me of Chanel. I also have a jacket like this that was part of a skirt/suit that I found at a thrift store. I think the whole set cost me about $5. Also the heels add a nice touch.
Enough with the casual wear. As good as it is to see what celebs choose to wear on a day to day basis, the real fun is in what they wear to events.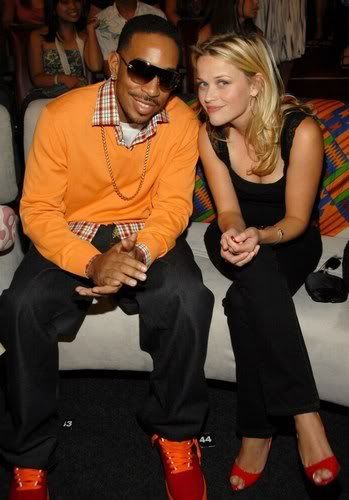 This looks like it's at some sort of launch party, rather than an awards show or something like that. But I
love
the touch of the red heels with the all black outfit. It takes an otherwise sort of ho-hum look and pops it up a notch. Without those shoes, I wouldn't have given this photo of her a second look.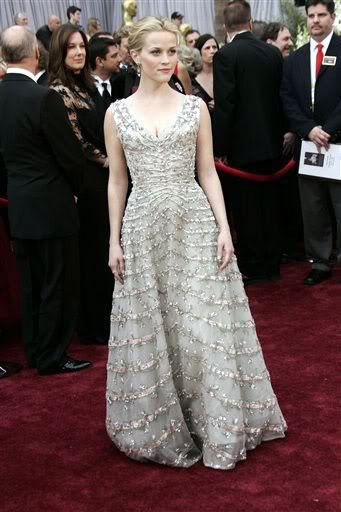 This is not my favorite dress she's worn, but I think it's pretty enough. It looks like this is probably at the Oscars, since it's a pretty formal looking gown. But I think that for how small she is height-wise, she pulls off this full length gown fairly well.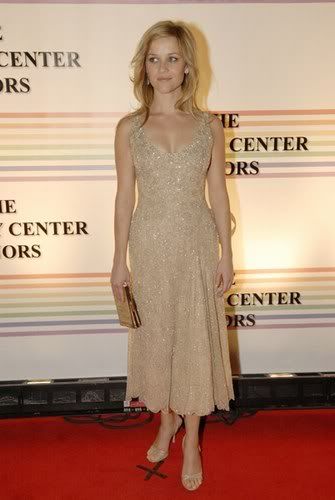 This is another dress that I think is probably hard to pull off for many people, but she manages to do it. The color of it could totally wash out a majority of people wearing this, but she somehow manages to do it. I know I would probably look sickly unless I'd gotten a good tan if I put this dress on. She manages to look good and healthy, and also not be tanorexic.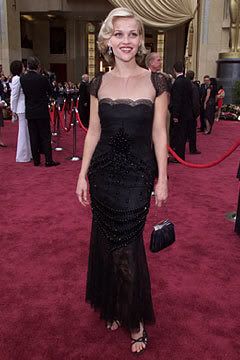 I really thought that Reese looked elegant in this dress. It flatters her figure, and I love the little cap sleeves.
This dress I love. I'd kill to own this dress. Well…maybe I wouldn't go quite that far. But, I really like this one. It's fun, flirty, age appropriate. All without making her look like she's trying too hard. The kind of little black dress every girl wants to own. I also think the shoes are cute. They have that cute-but-comfortable look to them.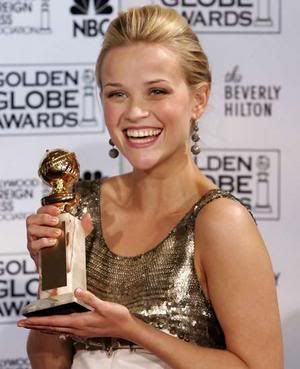 Here's Reese at the Golden Globes when she won for her part in Walk The Line. Now, I know that Kirsten Dunst wore this dress first a year or two before. But that doesn't change the fact that it is a cute dress. Plus, how happy Reese looks makes it look even better on her.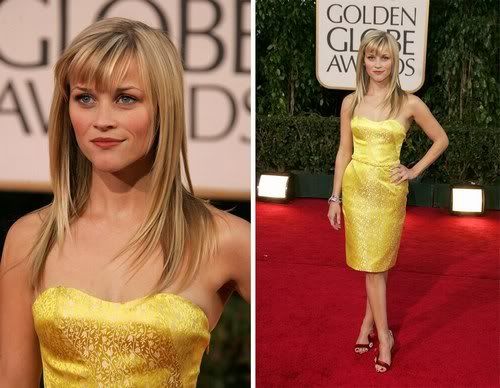 Here is the dress she wore this year to the Golden Globes, which we've already
talked about
. But I just thought she looked stunning. I think this was one of, if not the first, public events she attended since the divorce. Why Ryan screwed things up by fooling around with that other girl, I'll never know.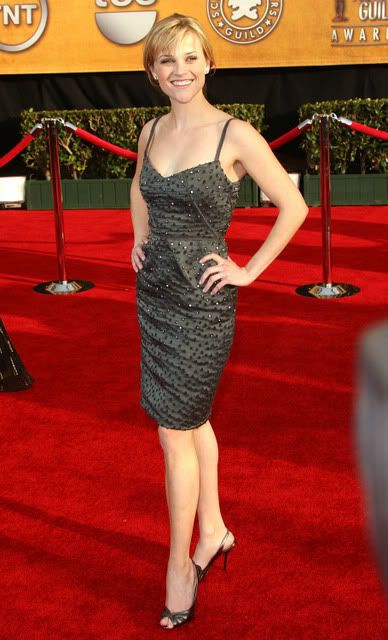 Here she is at the SAG awards. I think she did another stellar job picking to wear this dress. She's a little slimmer these days, and these last two dresses do wonders showing that off. I'm really anxious to see what she'll decide to wear to the Oscars later this month.
And just to show that Reese wasn't always such a fashionable dresser, and to help us all see that we can turn it around, here's Reese in a rather horrid outfit.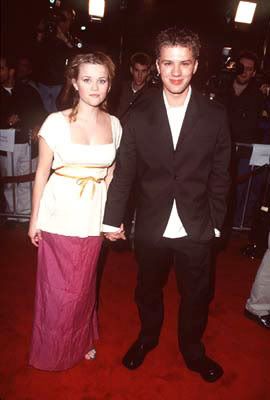 The long skirt with the long, baggy peasant-top like shirt just do nothing for her. It makes her look not only short and stubby, but a little bit more chunky than she is as well.